Friday Product: New Ring:bit Car
标签:DIY
LUCY 发布于 2018-03-22 11:13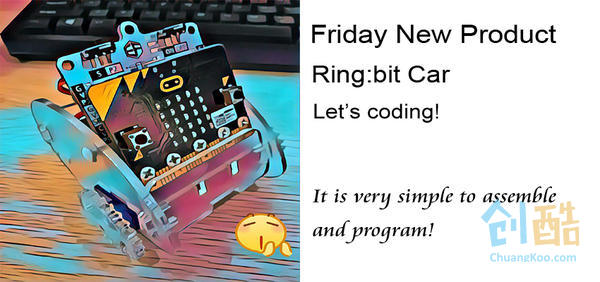 Hello my friends! This week I have brought you a new car. It is very cute and small. I am sure you will like it. Now let's take a look!
This is an exquisite ring:bit car. It is programmable. Its beautiful shell is made of crytal acrylic. Every part is well cut, precise enough to fit in each slot. Due to its good chamferring and frosted surface, the car shell is very soft to touch. This car is powered by 3 AAA batteries. Once being switched on with batteries in the back holder, it can run very flexibly. Underneath the car body, we can see two blue servos, which are used to drive 2 crystal wheels and make the car run. It has good extension ability. You can add octopus hunt sensor to make it realize line-follow effect. You can also add a plastic band to the holes in the back of car, then you can make it draw some circles on a white paper. Or you can add our 4 RGB 2*2 Rainbow LED Matrix to make the car glow with colorful lights. There are many ways to increase its extension only if you tried to do it.
In the below, I have made a video for you to show how this small car can draw circles.
Isn't is very interesting? If you want to own one, just click the link here and add this car into your cart.If you want to buy in bulk and have a better price, then you can contact our sales: services@elecfreaks.com .
Hope you have a good time during our weekend!
在淘宝中搜索"恩孚电子",你可以以最优惠的价格购买到英国原装正版micro:bit哦!
如果想联系我们,请发邮件至:louise@elecfreaks.com 。