Spotlight on 2018 Bett London
标签:DIY
LUCY 发布于 2018-02-03 14:06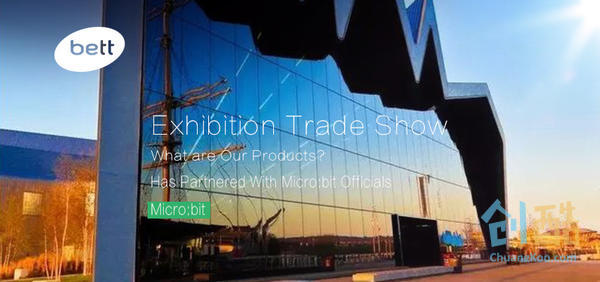 Do you know Bett?
Bett or The Bett Show (formerly known as the British Educational Training and Technology Show) is an annual trade show in the United Kingdom marketing information technology in education organised by Ascential. The first Bett show was held in London, England in 1985, and since 2013 it has been held annually in January at the ExCeL London.(From WIKIPEDIA).
This year from Jan. 24 to Jan. 27, 2018, Bett is held in London again. Waris, one of my friends and also a member from Micro:bit Foundation, has visited to this show with some of our hottest products. Here's what he send back to us:
Nice shoot! It is really attractive to see handsome faces!
Next, he showed me some products he displayed on the show.
Look! This is our IoT kit!It is beautifully placed on the stand. In the kit, there is a crystal acrylic house, a wind speed sensor, temperature and humidity sensor, ESP8266 Serial Wifi Module, PM2.5/PM10 dust sensor, Analog Photocell, Soil Moisture Sensor, Sound Sensor, etc.. This is a magic kit which enables you to detect all environment data and upload it onto IoT platform.
This is an assembled brick toy. It is made of micro:bit, octopus:bit and some bricks. You can see the perfect match of these elements. It is really a good artwork!
They are good products for this show. Because the theme of BETT 2018 is to prepare today's students for future jobs and look ahead to the future education. It can help students learn more about sensors while teaching them some knowledge about IoT(Internet of Things), or how to upload these environment data onto the web and share it with their teachers and classmates.
I am very happy to see our products showed on this important fair. Because Bett is the most influential fair in education equipment field. Most people who visit this fair are educators from junior or senior education organisations and on-the-job education organisations. Lots of people have visited BETT 2018. More and more parents, teachers, school masters care more about education than ever before. It is a trend that tells us a transform is closing in education field closer and closer, and our children will become more clever and intelligent.
In the last, I have attached two pictures sent from Waris to show you how hot The Bett Show is. You can see my photo and imagine the atomsphere on the spot. I am look forward to hear good news from BETT 2018!
https://www.elecfreaks.com/12421.html
在淘宝中搜索"恩孚电子",你可以以最优惠的价格购买到英国原装正版micro:bit哦!
如果想联系我们,请发邮件至:louise@elecfreaks.com 。