Bravo! Now We are A Parterner of Micro:bit Official!
标签:DIY
LUCY 发布于 2018-02-03 14:03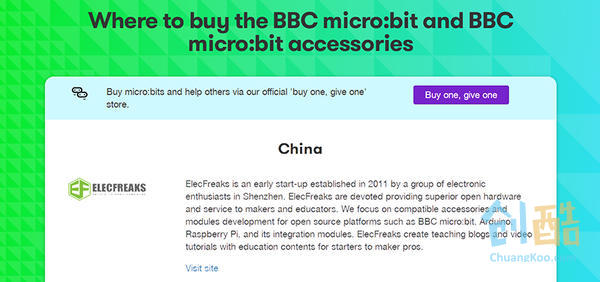 Today, I am going to tell you an exciting news: BBC Micro:bit Foundation has included us as one of their parterners!You can read this pagehttp://microbit.org/resellers/ for more details.
Since the establishment of micro:bit, we Elecfreaks always keep a close cooperative relationship with micro:bit foundation:
First of all, we have developed more than 20 types of micro:bit related products like octopus:bit,motor:bit,ring:bit,starter kit,Tinker kit and so on. Except for these alreay on sale, we have about 10 new products under development. Now micro:bit series of products have become a hot product line for us.
Secondly, we are actively promoting the chinese translation work of micro:bit official website. Currently, above 90% are done by our team members. In addition to the translation of the official website, we will also do some translation on the website of MakeCode.
Thirdly, we are trying our best to help micro:bit foundaton to do promotion around the world. For example, MakerFaire, BETT, etc.. Especially in BETT SHOW 2018, some of our products are presented among micro:bit official stand.
ElecFreaks has devoted to the industry of open hardware for almost 8 years already. Through the accumulation of these years, we have improved a lot in development, production, sales and marketing. Now Elecfreaks has grown into a big tree from a small sprout. Our growth can not leave without open source industry, can not leave without your long-term support. Now, it's the time for us to do some contribution. We are so glad to find that micro:bit foundation has the same sense of mission with us. Micro:bit is more than just a simple electric circuit. It is created with a final goal of motivating students to participate into the creative hardware production and software programming. In this era where STEM education is quite popular in the world, BBC Micro:bit Foundation is just like a beacon in the sea, who has promoted micro:bit to the eyesight of the global STEM educators within 2 years by using its powerful appeal. Fast speed and wide range of promotion, no one has ever done it in the open hardware field before. I believe the influence of micro:bit foundation, combining with the development ability of Elecfreaks, will have a win-win situation that lead to a new miracle.
Become an official parterner of BBC Micro:bit Foundation means our hardworks are admitted. At the same time, it stimulates us to continuously update our products and encourage us to improve our service and user experience.
ElecFreaks is an early start-up established in 2011 by a group of electronic enthusiasts in Shenzhen. ElecFreaks are devoted to provide superior open hardware and service to makers and educators. We focus on compatible accessories and modules development for open source platforms such as BBC micro:bit, Arduino, Raspberry Pi, and its integration modules. ElecFreaks have massive teaching blogs and video tutorials about education contents for starters to maker pros.
https://www.elecfreaks.com/12443.html
在淘宝中搜索"恩孚电子",你可以以最优惠的价格购买到英国原装正版micro:bit哦!
如果想联系我们,请发邮件至:louise@elecfreaks.com 。