How to Make a Colorful Crystal Lamp with Micro:bit
标签:DIY
LUCY 发布于 2018-01-20 11:46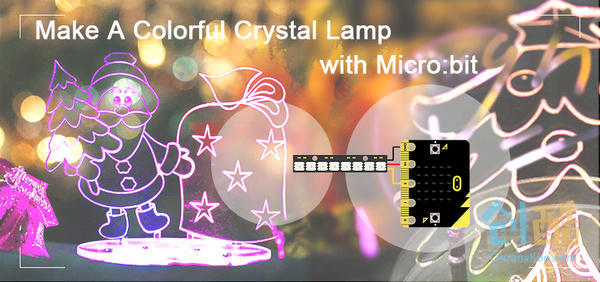 Christmas Day is coming soon. Are you still head-aching about Christmas gifts for your children or friends? Let's move our hands to try some DIY gifts. Here we have made a colorful crystal lamp with micro:bit board. Hope this will be a good choice for you. Just have a try!

1 x BBC Micro:bit Board for Coding & Programming

4 x 3*5 Copper Stud

8 x 3*5 Screw

1 x acrylic board
We use laser engraving machine to carve patterns on the transparent acrylic board, and then install RGB LED light underneath. The light beam will emit from the carved area. We can also use highlighters to draw some wanted patterns on the acrylic board so as to realize the similar effect.

Firstly, we need to design an acrylic base. You can design it to any shape you like by yourself. We use laser engraving machine to cut two circles in same size from a transparent acrylic board. There are four small holes, which form a square within the circles. On one of the circles, we have made a hollow rectangle slot.

Fix RGB LED strip to the hollow slot of the circle with screws. And then use copper studs to assemble the whole base together. You can install it according to the picture below.

Next, let's start to carve patterns for our lamp body. Under each pattern you carved, you shall spare a bottom base, which can be plugged into the acrylic base. You can choose some of your favorite cartoon figures or pictures, then draw it with CAD. In this case, what we have designed is a Christmas tree. Here's our sketches!

Plug the bottom base of the tree into the slot on the acrylic base.

Connect RGB LED strip to micro:bit. You can connect them according to the picture below.

Hide your micro:bit board and cables well under the lamp body. Use a USB cable to connect your micro:bit board to computer. Till now, we have finished all of hardware installation. Next, we are going to program for our lamp and try to make it realize colorful light gradient.

Open Microsoft Makecode, write your code into the edit area. I would like to suggest you try to program by yourself first.

Of course, you can see the whole program in the link below. Just click Edit on the upper right corner, then click Download underneath to download your code directly into micro:bit.

Amazing! The crystal lamp is glowing colorful lights! A beautiful Christmas lamp is created!

Micro:bit Experiment 11: Rainbow LED Ring —— Elecfreaks Mirco: bit Starter Kit Course

在淘宝中搜索"恩孚电子",你可以以最优惠的价格购买到英国原装正版micro:bit哦!
如果想联系我们,请发邮件至:louise@elecfreaks.com 。